Carmen's Tiramisu Trifle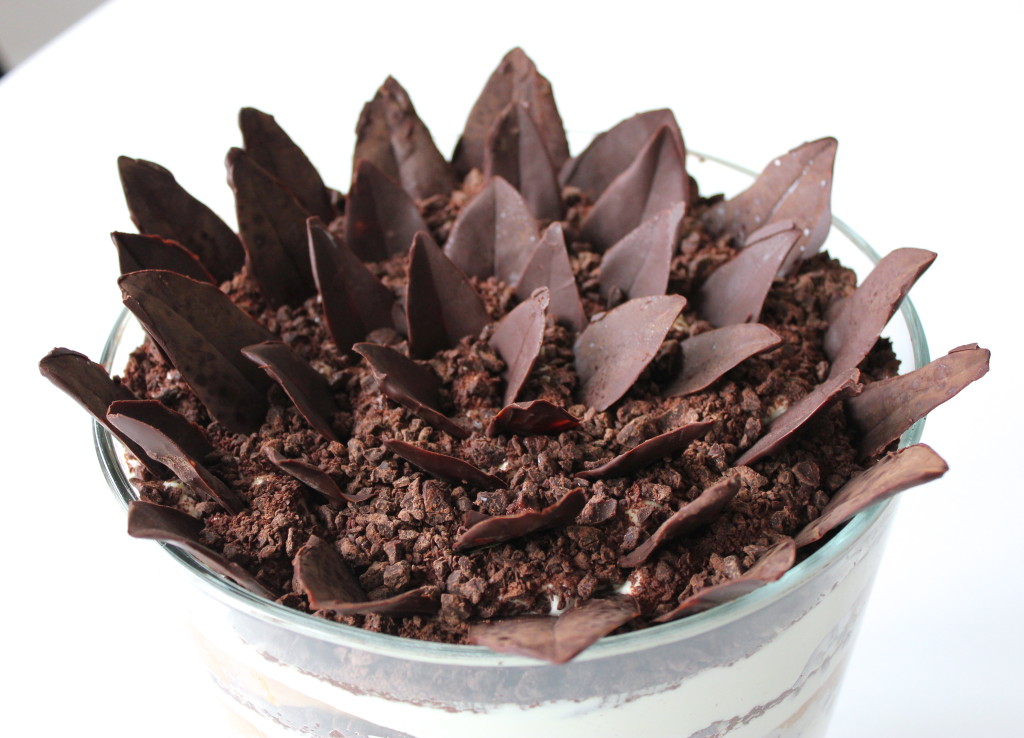 MASCARPONE CUSTARD
1⅓ cups sugar
½ cup water
1 tsp. vanilla extract
12 large egg yolks
4 (8-ounce) containers mascarpone cheese
2 cups chilled whipping cream
2 tsp. almond extract
DIPPED BISCOTTI
1 shot of expresso
¼ cup coffee liqueur
1 cup water
2 Tbsp. sugar
30-40 almond homemade or store bought biscotti
FOR LAYERING
1 cup semisweet chocolate chips, finely ground in processor
CHOCOLATE LEAVES
1 cup semisweet chocolate chips
about 40 leaves of assorted sizes
FOR THE MASCARPONE CUSTARD: Whisk sugar, water, vanilla extract and egg yolks in a metal bowl. Set bowl "a bain marie" - over simmering water. Whisk until mixture thickens for about 5 minutes. Remove bowl from over water. Whisk mascarpone, 1 container at a time, into warm custard until blended.
Beat whipping cream with almond extract until cream forms soft peaks. Fold in mascarpone custard.
FOR DIPPED BISCOTTI: Mix warm water, expresso and coffee liqueur. Dip biscotti in coffee mixture to coat on both sides.
FOR CHOCOLATE LEAVES: Wipe and dry leaves. Melt chocolate in microwave 30 seconds at a time, mixing after each 30 seconds, until chocolate is completely melted.
Brush chocolate over the bottom side of the leaves until coated.
Place leaves on a baking sheet covered with parchment paper. Chill until firm.
Carefully peel chocolate from leaves.
TO ASSEMBLE: Cover bottom of trifle dish with dipped biscotti. Spread about 2 cups of the mascarpone custard to cover biscotti. Sprinkle with ground chocolate chips. Repeat layers until you reach top of dish. Cover and chill for a couple of hours or until ready to serve.
When ready to serve, decorate with chocolate leaves.