Lighter Chicken Enchiladas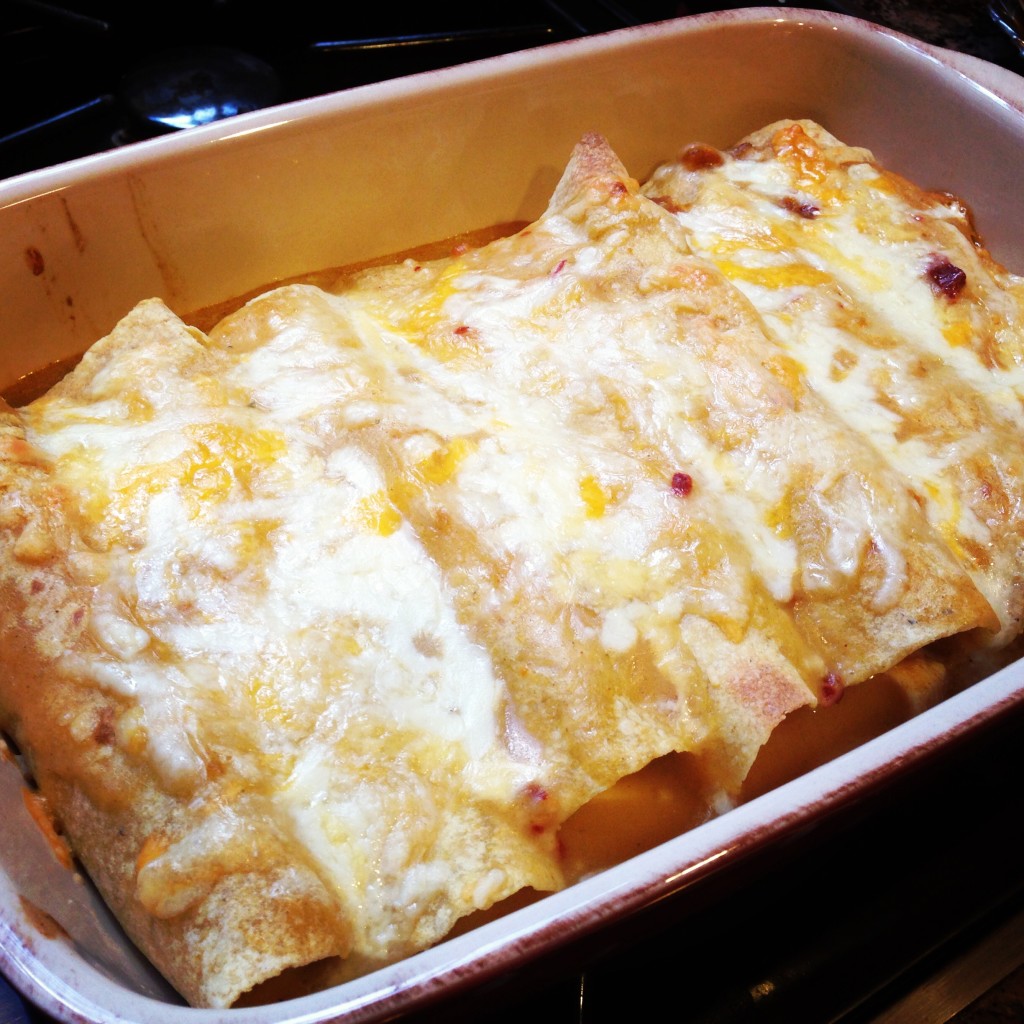 Course salt and ground pepper
3 boneless, skinless chicken breast halves (6-8 ounces each)
2 Tbsp. vegetable oil
2 garlic cloves, minced
¼ cup all-purpose flour
1 tsp. ground cumin
1-2 Tbsp. minced canned chipotles in adobo
1 can (14½ ounces) reduced-sodium chicken broth
8 corn tortillas (6-inch) from Central Market
½ cup grated Monterey Jack cheese (2 ounces)
In a large skillet with a tight-fitting lid, bring 1 inch salted water to a boil. Add chicken. Cover; reduce heat to medium-low. Simmer 5 minutes; remove skillet from heat. Let chicken steam, covered, until opaque throughout, 12-14 minutes. Transfer chicken to a medium bowl; shred with two forks. Set aside.
While chicken is cooking, make sauce: In a medium saucepan, heat oil over medium. Add garlic; cook until fragrant, 1 minute. Add flour, cumin, and chipotles in adobo; cook, whisking 1 minute.
Whisk in broth and ½ cup water; bring to a boil. Reduce to a simmer, and cook, whisking occasionally, until sauce has thickened slightly, 5-8 minutes; season with salt and pepper.
Transfer 1 cup sauce to bowl with chicken; toss to combine.
Preheat oven to 400 degrees F. Pour ¼ cup sauce into bottom of an 8-inch square baking dish; set aside.
Stack tortillas, and wrap in a double layer of damp paper towels; microwave until hot, about 1 minute.
Fill each tortilla with chicken mixture; roll up tightly, and arrange, seam-side down, in baking dish. Cover with remaining sauce, and top with cheese. Bake until hot and bubbling, 15-20 minutes. Let cool 5 minutes before serving.
Chipotles in adobo (smoked, dried jalapeños in sauce) are spicy - for less heat, scrape out the ribs and seeds. You'll find them in the international aisle.
Recipe by
Dallas Duo Bakes
at http://dallasduobakes.com/2013/09/lighter-chicken-enchiladas.html