Cherry and Hazelnut Granola with Clusters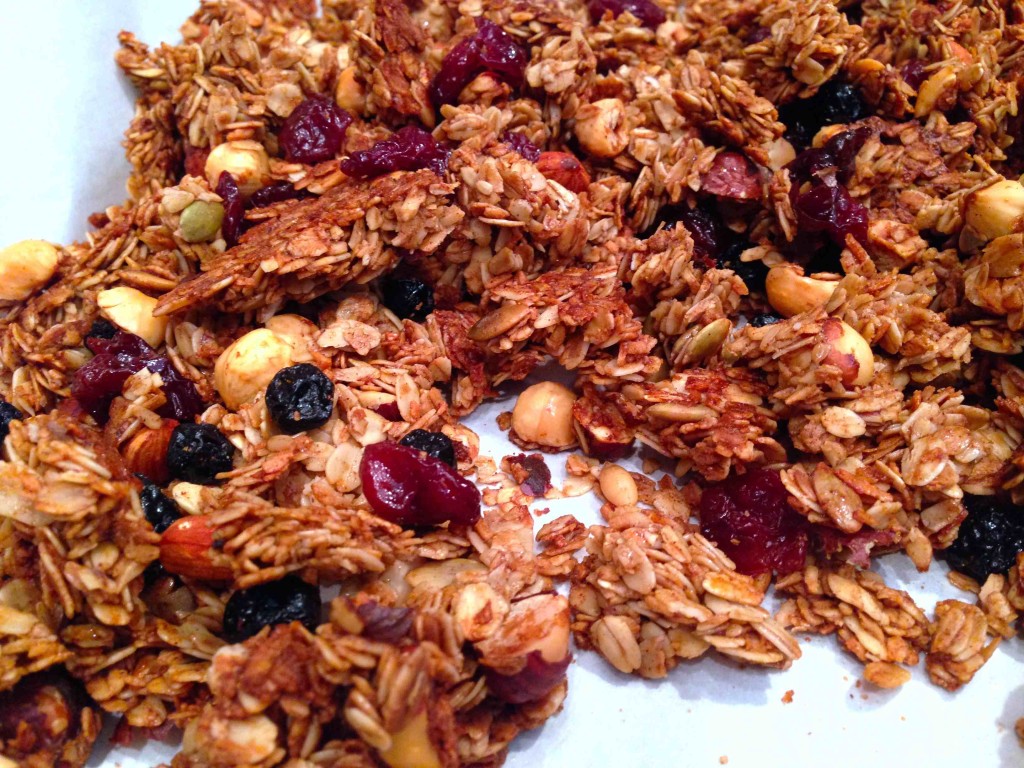 3½ cups thick rolled oats
¼ cup pumpkin seeds
½ cup coconut flakes, unsweetened
1 cup hazelnuts, roughly chopped
1½ tsp. cinnamon
1 tsp. sea salt
½ cup coconut oil
½ cup pure maple syrup
1 Tbsp. molasses
1 Tbsp. brown sugar
2 tsp. vanilla extract
1 egg white
1 cup dried cherries, blueberries or other dried fruit
In a pot over medium heat, mix together coconut oil, maple syrup, molasses and brown sugar. Remove from heat and stir in vanilla extract.
Meanwhile, in a large bowl mix together oats, pumpkin seeds, coconut, hazelnuts, cinnamon and salt. Pour the hot oil syrup mixture over the oats. Then, using a whisk, whip the egg white until its frothy. Fold the egg white into the oat mixture.
Line a large baking tray with foil then pour out the oats onto the baking sheets. Bake at 325 degrees for 40-45 minutes or until golden. Don't stir this during baking or the clusters will break up.
Let cool completely, then add in cherries/dried fruit and store in a large jar.
The secret to making clusters in your granola is folding in an egg white before cooking, then not stirring the oats during baking. Also, do not toss the granola or break it up until after it has completely cooled.
Recipe by
Dallas Duo Bakes
at http://dallasduobakes.com/2014/02/cherry-and-hazelnut-granola-with-clusters.html