Stovetop Chicken Spaghetti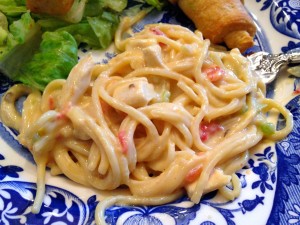 2 - 2½ cups cooked, cubed
1 lb velveeta cheese
1 can Rotel, original
1 lb spaghetti pasta
1 stick butter
1 can cream of chicken soup (I used 98% fat free)
1 can cream of mushroom soup (I used 98% fat free)
1 medium onion, chopped
1 green bell pepper, chopped
salt and pepper to taste
Boil spaghetti pasta in water according to package directions. Drain pasta after done and discard water. Set aside the pasta. Do not rinse.
Melt the butter in the same (empty) pot and sauté the onion and bell pepper.
Add Rotel, soups, cooked chicken, and spaghetti to the sautéed onion mixture, one at at time, and gently mix together.
Add velveeta and stir together, mixing well. Add salt and pepper to taste.
Heat until cheese in melted thoroughly, stirring occasionally to keep from scorching.
Serve immediately.
Recipe by
Dallas Duo Bakes
at http://dallasduobakes.com/2014/08/stovetop-chicken-spaghetti.html