Quiche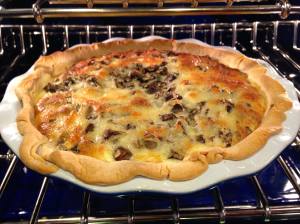 Pastry for 9-inch one-crust pie
¾ cup mushrooms, finely chopped (can substitute 12 slices cooked and crumbled bacon)
1 cup shredded natural Swiss cheese (about 4 ounces)
⅓ cup minced onion
4 eggs
2 cups half and half
¾ tsp. salt
¼ tsp. sugar
⅛ tsp. cayenne red pepper
Preheat oven to 425 degrees F. Prepare pasty.
Sprinkle mushrooms (or bacon), cheese and onion in a pastry-lined pie pan.
Beat eggs slightly; beat in remaining ingredients. Pour cream mixture into pie pan.
Bake 15 minutes.
Reduce oven temperature to 300 degrees F and bake 30 minutes longer or until a knife inserted 1 inch from edge comes out clean. Let stand 10 minutes before cutting.
Serve in wedges.