Mallory's Chocolate Pie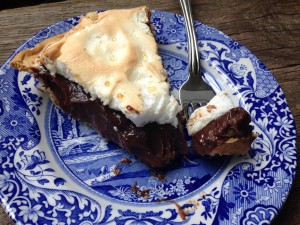 CHOCOLATE PIE:
1¾ cup sugar
2 cups milk
3 Tbsp. butter
3 egg yolks (save the whites)
4 Tbsp. cocoa
6 Tbsp. flour
2½ tsp. vanilla
1 baked pie crust
MERINGUE
4 egg whites
6 Tbsp. sugar
TO MAKE THE CHOCOLATE PIE: Mix the flour, milk, sugar, cocoa and egg yolks over low heat until thick, stirring frequently in a pot. Remove heat and add vanilla and butter, mix well.
Pour into baked pie crust.
TO MAKE THE MERINGUE: Preheat oven to 400 degrees F. Combine egg whites and sugar. Add egg whites one at a time. It will thicken up. Beat until it forms stiff white peaks. Add to pie and bake until golden brown, about 15-16 minutes.