Chocolate Peanut Butter Overnight Oats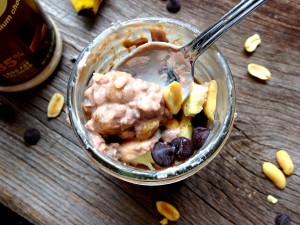 8 ounce mason jar
¼ cup rolled oats
¼ cup plain greek yogurt
¼ cup unsweetened vanilla almond milk
1 Tbsp. chocolate PB2
1 tsp. unsweetened cocoa
1 tsp. pure maple syrup
1 tsp. chia seeds
pinch of cinnamon (optional)
1 tsp. mini chocolate chips
1 tsp. unsalted peanuts
¼ chopped banana
In a mason jar mix together almond milk, greek yogurt, chocolate PB2, and unsweetened cocoa. This takes about 30 seconds or a minute. Then whisk in maple syrup and chia seeds.
Stir in rolled oats until all ingredients are combined. Add a pinch of cinnamon, if desired.
Place lid securely on and store overnight in the refrigerator.
In the morning, give it a stir, and add a little more almond milk to loose it up and give it the consistency you want. Sprinkle chocolate chips, peanuts and bananas on top.
Recipe by
Dallas Duo Bakes
at http://dallasduobakes.com/2015/04/chocolate-peanut-butter-overnight-oats.html