Maple Pecan Banana Bread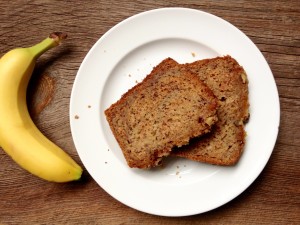 BREAD
1½ cups flour
¼ cup white whole wheat flour
1 tsp. baking powder
1 tsp. baking soda
½ tsp. salt
1 tsp. cinnamon
⅛ tsp. nutmeg
1½ cups mashed banana
⅓ cups maple syrup
3 Tbsp. maple sugar
¼ cup coconut oil, melted and slightly cooled
½ cup low-fat buttermilk, at room temperature
1 large egg, at room temperature
1 tsp. vanilla extract
MAPLE PECAN TOPPING
⅓ cup pecans, halved
3 Tbsp. maple sugar
3 Tbsp. flour
pinch of cinnamon
1½ Tbsp. coconut oil, melted
Preheat oven to 350 degrees F and spray a 9x5-inch loaf pan with nonstick spray.
FOR THE BREAD: Whisk together flours, baking powder, baking soda, salt, cinnamon, and nutmeg in a large bowl. Make a well in the center of the mixture.
Combine banana, maple syrup, maple sugar, coconut oil, buttermilk, egg, and vanilla in a medium bowl; add to flour mixture and fold in just until combined. Spoon batter into prepared pan and smooth top with an offset spatula.
FOR THE TOPPING: Combine pecans, maple sugar, flour, and cinnamon in a small bowl. Add coconut oil and toss mixture with a fork until crumbly.
Sprinkle over batter and bake for 30 minutes; rotate pan and cover with foil to prevent over browning. Continue baking another 31 to 33 minutes. Bread is done when golden and a toothpick inserted in the center comes out clean or with a few moist crumbs attached. Cool in pan on a wire rack for 15 minutes; carefully remove bread from pan and cool completely before slicing and serving. Store leftovers in an airtight container at room temperature up to 2 days.
Serving size:
1
Calories:
225