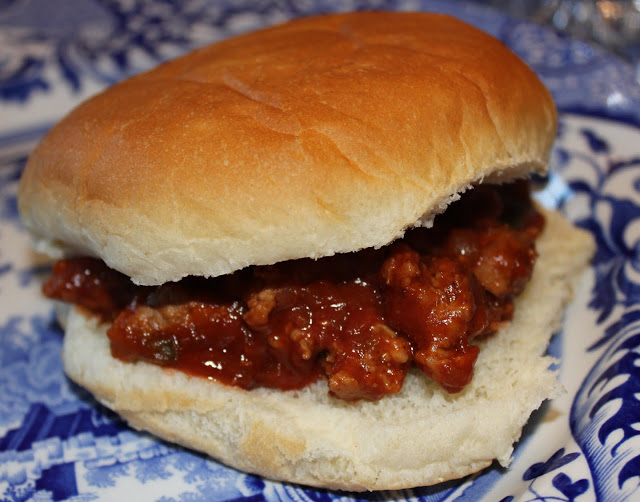 My husband, Matt, and I absolutely loved this Sloppy Joe recipe from
Saveur.com
.  Not only was it easy, I'd say it is pretty healthy too!  With chopped yellow onions and bell peppers, canned tomato sauce, chili powder, and a few other spices, the only "fatty" ingredient in this dish is your ground meat.  I used ground turkey, so I saved even more calories and fat.  (My husband had no idea I substituted turkey for beef!  haha.)
This meal cooks in under 20 minutes and is definitely a crowd pleaser.  Toast some buns, prepare some coleslaw, and you're set.  On a side note, I do have a funny story about the toasted buns, that I must share with you.  Since moving into our new house, I've had to readjust to my new oven.  I must say, the broiler sure heats up fast, and I
ALMOST
learned that the hard way!!!  While toasting my hamburger buns for these Sloppy Joes, I was doing my best job checking the oven every so often to make sure they were nicely browning.  Well, apparently I stepped away for from the oven for too long, and before I knew it, the buns were black, crusty on top, and the oven was smoking.  As I opened the oven door, the smoke came out like "I Dream of Jeannie" does, and I thought the smoke was going to set off my fire alarm!  A few more seconds and I would have had to pull out the fire extinguisher!  Lucky for me that hasn't happened yet…
In my early days of cooking I had a reputation for catching things on fire.  In our house growing up, I caught Easy Mac on fire because I forgot to add the water to make macaroni and cheese.  I just stuck the noodles in the microwave, pressed start for 3:45 and next thing I knew, I smelled smoke and saw black, shriveled noodles!  Another example was just few years ago when I was in college at Texas A&M University.  I was broiling salmon, and the recipe said to drizzle olive oil on the fish.  Well, I drizzled a little to much, and the heat from the broiler caught the oil on fire from the aluminum foil that the fish was sitting on.  This time the fire alarm when off, and I had to dump Evian water all over my burning salmon!  My stomach was in knots and I was shaking because I was so nervous that evening.  I could have burned my whole apartment complex down!  Yikes!
So back to the Sloppy Joes…any man would love it if you made this recipe for him.  This recipe says it serves 4, but my husband eats a lot when he likes something, so it only served 2 in our family!  Enjoy!
Sloppy Joe
Prep time:
Cook time:
Total time:
Source: Savuer
Ingredients
1 Tbsp. canola oil
½ small yellow onion, finely chopped
¼ green pepper, cored, seeded, and finely chopped
8 oz. ground beef
1 cup canned tomato sauce
2 tsp. Worcestershire sauce
1 tsp. chili powder
Kosher salt and freshly ground pepper, to taste
Tabasco, to taste
2-3 hamburger buns, toasted
Instructions
Heat oil in 12" skillet over medium-high heat. Add onion and pepper and cook, stirring, until soft, about 6 minutes.
Add beef and cook until browned, stirring so that the meat breaks up into small pieces, about 8 minutes. Add tomato sauce, Worcestershire, chili powder, salt, pepper, and Tabasco; cook stirring occasionally until reduced and thick, about 10 minutes.
Divide between buns and serve.