Chicken & Sun-Dried Tomato Orzo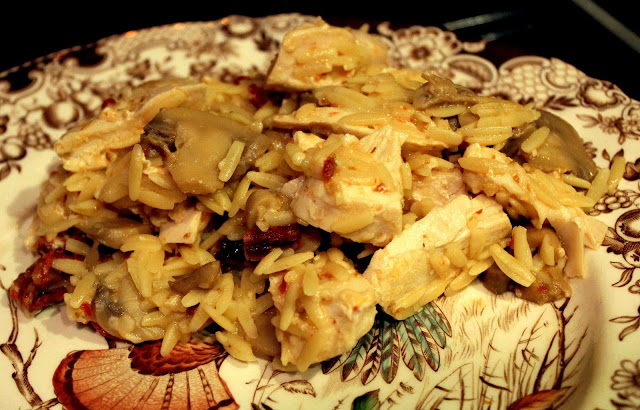 If you're looking for something healthy AND tasty, look no further than this chicken and sun-dried tomato orzo dish. Matt and I both loved it and the dish is actually pretty simply to make!
The sun-dried tomatoes combined with Parmesan cheese pack a flavorful punch along with the Italian aroma  of the fresh marjoram and mushrooms. Serve with a side a green vegetables or salad and you've got a complete meal. Enjoy!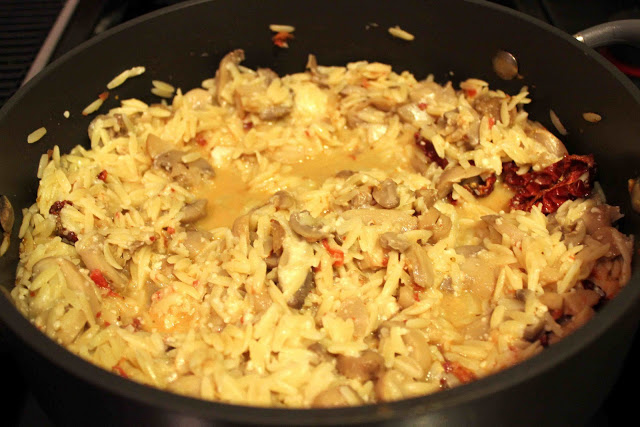 Chicken & Sun-Dried Tomato Orzo
Adapted fro Eating Well
Ingredients
8 oz orzo, preferably whole wheat
1 cup water
½ cup chopped sun-dried tomatoes, (not oil-packed), divided
1 plum tomato, diced
1 clove garlic, peeled
3 tsp. chopped fresh marjoram, divided
1 Tbs. red-wine vinegar
2 tsp. plus 1 Tbsp. extra virgin olive oil, divided
4 boneless, skinless chicken breasts, trimmed (1 - 1¼ pounds)
¼ tsp. salt
¼ tsp. freshly ground pepper
8 oz. mushrooms
½ cup finely shredded Parmesan cheese, divided
Instructions
Cook orzo in a large saucepan of boiling water until just tender, 8-10 minutes or according to package directions. Drain and rinse.
Meanwhile, place 1 cup water, ¼ cup sun-dried tomatoes, plum tomato, garlic, 2 teaspoons marjoram, vinegar and 2 teaspoons oil in a blender. Blend until just a few chunks remain.
Season chicken with salt and pepper on both sides. Heat remaining 1 tablespoon oil in a large skillet over medium-high heat. Add the chicken and cook, adjusting heat as necessary to prevent burning, until golden outside and no longer pink in the middle, 3-5 minutes per side. Transfer to a plate; tent with foil to keep warm.
Pour the tomato sauce into the pan and bring to a boil. Measure out ½ cup sauce to a small bowl. Add the remaining ¼ cup sun-dried tomatoes to the pan along with the orzo, mushrooms and 6 tablespoons of cheese. Cook, stirring, until heated through, 1-2 minutes. Divide among 4 plates.
Slice the chicken. Top each portion of pasta with sliced chicken, 2 tablespoons of the reserved tomato sauce and a sprinkling of the remaining cheese and marjoram.