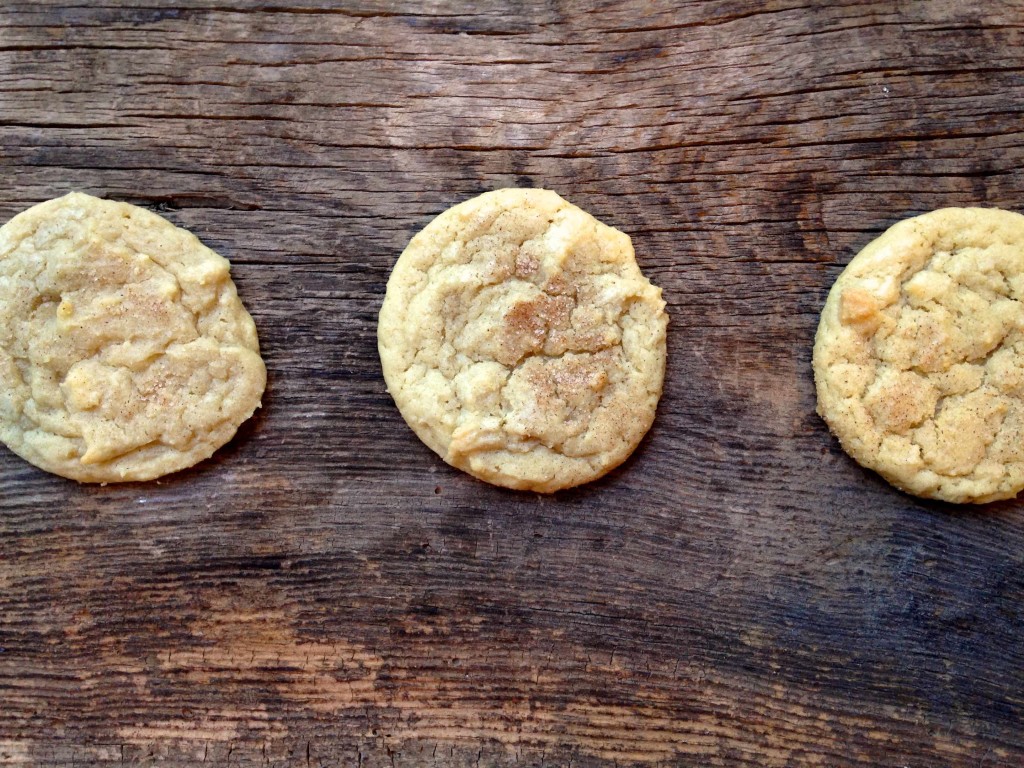 I love sugar cookies. I love snickerdoodle cookies. So why not combine the two? A hybrid between a buttery sugar cookie and a cinnamon-sugar snickerdoodle cookie, these sugar doodles are scented with vanilla, have chewy edges, soft centers, and are sprinkled with cinnamon-sugar mixture.
My biggest complaint with cookies is when they are dry and tough. These are quite the opposite. The literally melt in your mouth, which makes you feel like you could eat about 10!
It's always implied that for small groups at church I will bring the dessert. More than likely that dessert is in the form a of cookie.
My sister came over to visit the new baby, and we ended up making these while she was here. Literally you can make these while holding a baby… which is what we did. These cookies are that easy!
Sugar-Doodle Cookies
Prep time:
Cook time:
Total time: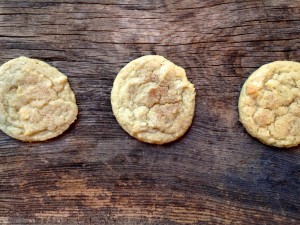 Adapted from Averie Cooks
Ingredients
½ cup unsalted butter, softened (1 stick)
½ cup granulated sugar
½ cup light brown sugar, packed
1 large egg
2 Tbsp. milk
1½ tsp. vanilla extract
1¾ cup all-purpose flour
1 tsp. baking soda
¼ tsp. salt
cinnamon-sugar, to sprinkle on top
Instructions
To the bowl of a stand mixer fitted with the paddle attachment, beat the butter on low speed until smooth, 1-2 minutes. Add the sugars and beat on medium-high speed until creamed and well combined, 2-3 minutes.
Stop, scrape down sides of the bowl, and add the egg, milk, vanilla, and beat on medium-high speed until light and fluffy, 4 to 5 minutes. Stop, scrape down the side of the bowl, and add the flour, baking soda, salt, and mix until just combined, about 1 minute.
Transfer dough to an airtight container and refrigerate for at least 3 hours, up to 5 days.
Preheat oven to 350 degrees, and line a baking sheet with parchment or a silpat non-stick baking mat.
Using a 2-ounce cookie scoop, form heaping mounds weighing 2¼ ounces each and place them on the baking sheet, spaced at least 2 inches apart. Sprinkle with a little cinnamon sugar mixture.
Bake for 8-10 minutes or until pale golden and edges have just set. Even if slightly undercooked in the center, the cookies will firm up as they cool. For crunchier cookies, extend the baking time 1-3 minutes longer.
Allow cookies to cool on the baking sheet for 10 minutes before removing. Store cookies in an airtight container at room temperature of up to 5 days or in the freezer for up to 3 months.