Toffee Pumpkin Cheesecake and Halloween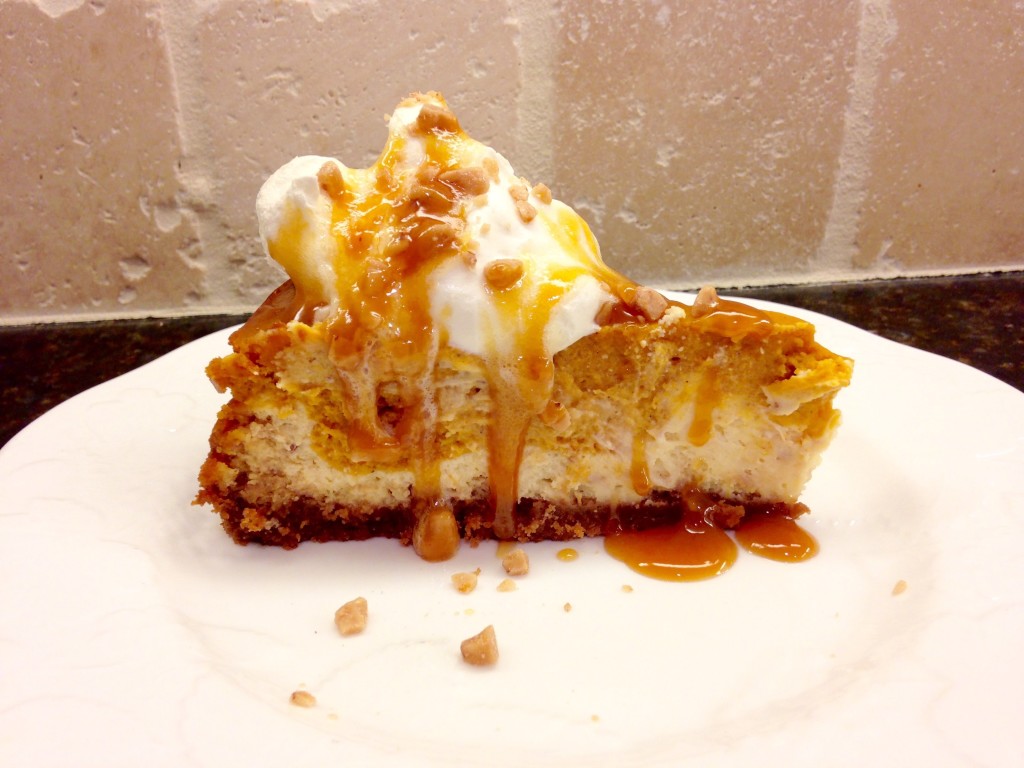 This past weekend Harper, my mom, and her friend Jenni and I took a trip to Houston. Mom and Jenni visited the Houston Quilt Show and pretty much shopped till they dropped!
While Mom and Jenni had a fun girls quilting trip, Harper and I decided to hang out with my Aunt Jolene and her daughter Robin, and Robin's girls Sarah and Madeline. Even though we were in Houston for just one full day, we had a blast and ate LOTS OF FOOD!
A lot of the recipes on this blog are actually from Aunt Jolene. She is one of the best cooks, if not THE BEST cook I know. In addition to looking forward to catching up with Jolene, I look forward to the homemade food she has prepared. This trip we had:
Breakfast: Cream of wheat, chili cheese egg casserole, bacon, toast, and fruit
Lunch: Tuna salad sandwich, chips, fruit, and Guess Again Cookies (I'll blog soon! They have Rice Krispies cereal, coconut and oats in them. Yum!)
Dinner: Chicken spaghetti, salad, french bread, and this toffee-pumpkin cheesecake
Snacks: Sarah's pumpkin muffins (I'll blog soon!)
Wednesday night was the Republican debate,  Jolene had a neighbor named Jim over to watch the it since his television was broken.
It's kind of a funny sight, looking back…. all four of us (Jim, Jolene, James – an uncle who was in Houston for work, and I) curled on the couch watching the Republican debate with big slices of cheesecake perched on our laps.
The cheesecake was amazing! I thought I would be good and not eat the whole slice, but my stomach trumped my brain and said I should finish it. I regretted that afterwards and had trouble falling asleep I was so stuffed, but it was definitely worth it!!
With cinnamon graham cracker crumbs, toffee bits, canned pumpkin and cream cheese, you can't go wrong with this decadently delicious fall dessert. Don't forget to garnish the cheesecake with whipped cream, toffee bits, and caramel topping for "icing on the cake".  It was almost too good to eat. ALMOST…. 🙂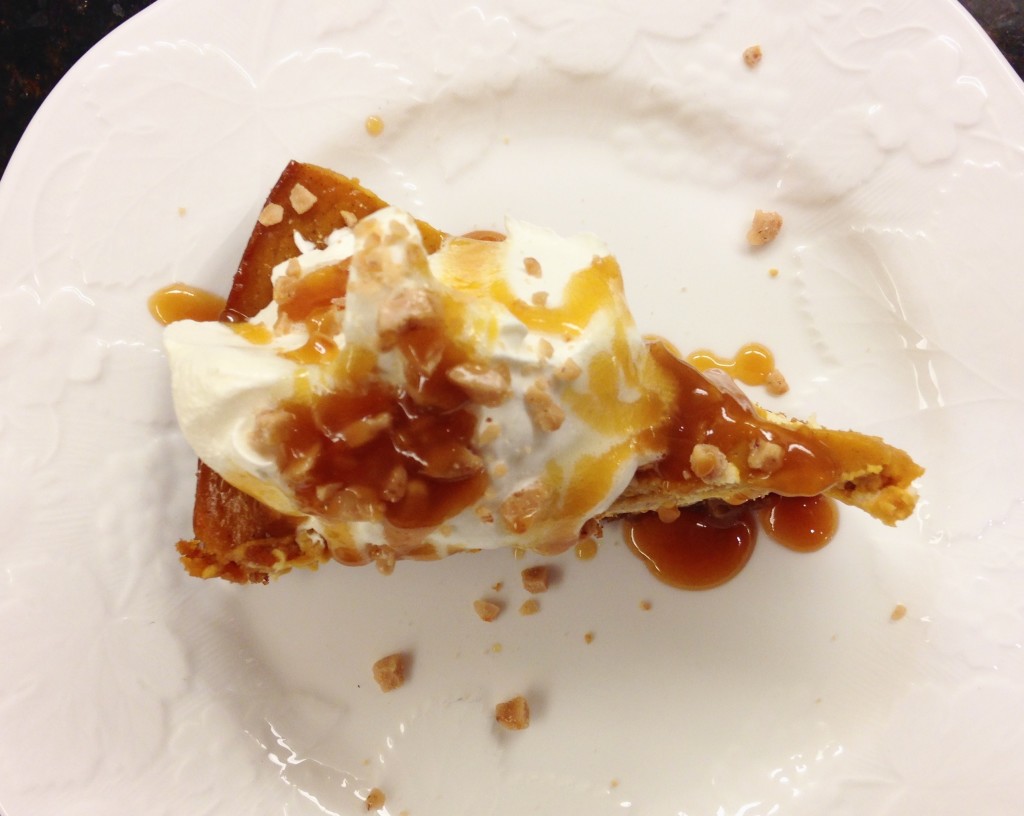 The Houston trip was short-lived and we were back in Dallas by Friday evening and ready to trick-or-treat and watch A&M football that next day.
Halloween was a treat as the Aggies pulled out a win against the South Carolina Gamecocks, and Harper went trick-or-treating for the first time.
She was a bumble bee! Buzzzzzzzz!!!!!!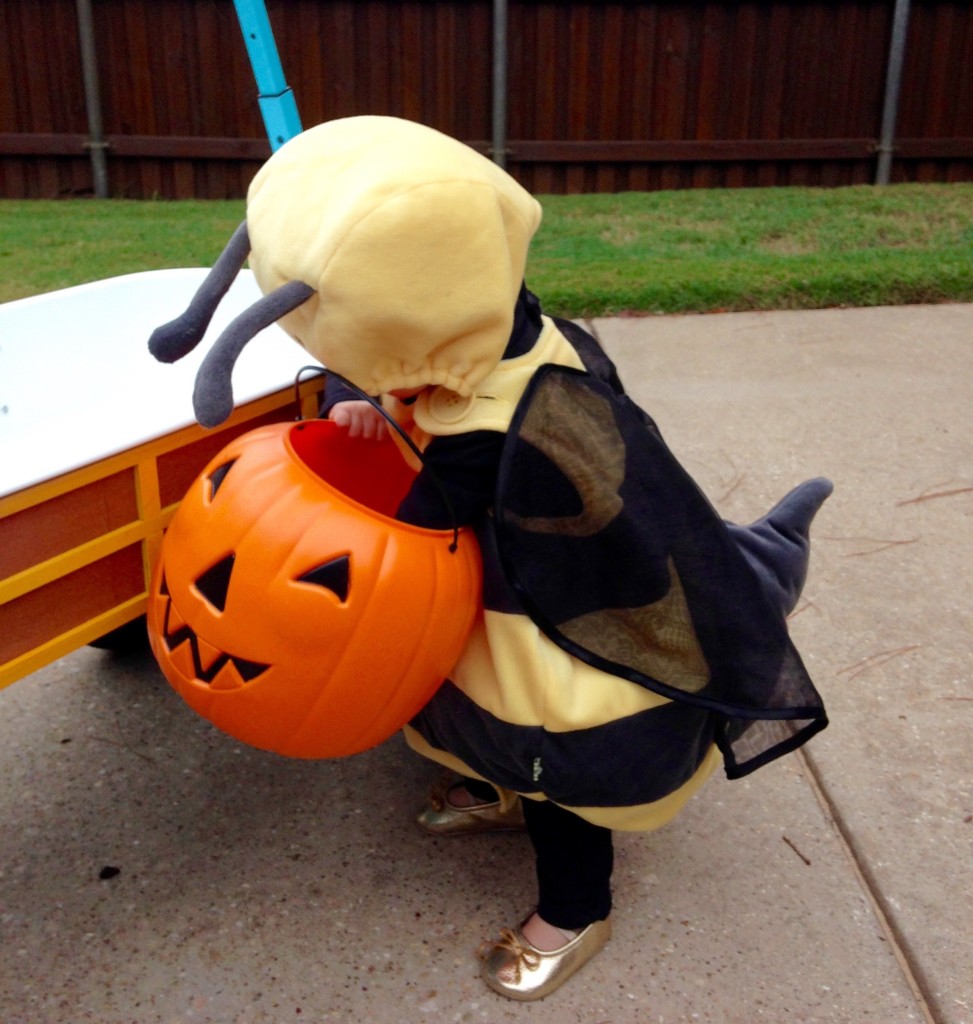 At one year old, Harper is fearless. Not once did she cry, get scared or fuss. I actually nearly jumped out of my skin when we knocked on a neighbor's house that had motion-sensored scary music and a fake black snake. Harper – nothing phased her!
She had a blast looking at all the other kids in their costumes, and enjoyed knocking on doors and picking out candy. When given the option of which candy she wanted, Harper choose a Reese's Pieces and a Kit-Kat. I think she liked the bright redish/orange colors from the wrappers.
Even though we all love M&Ms, Snickers, and Hershey's, why does the packaging have to be dark brown? Such an ugly color, and if you are trying to appeal to a one-year-old, they have their sights on the brightly packaged candies. FYI – to all the candy makers. 🙂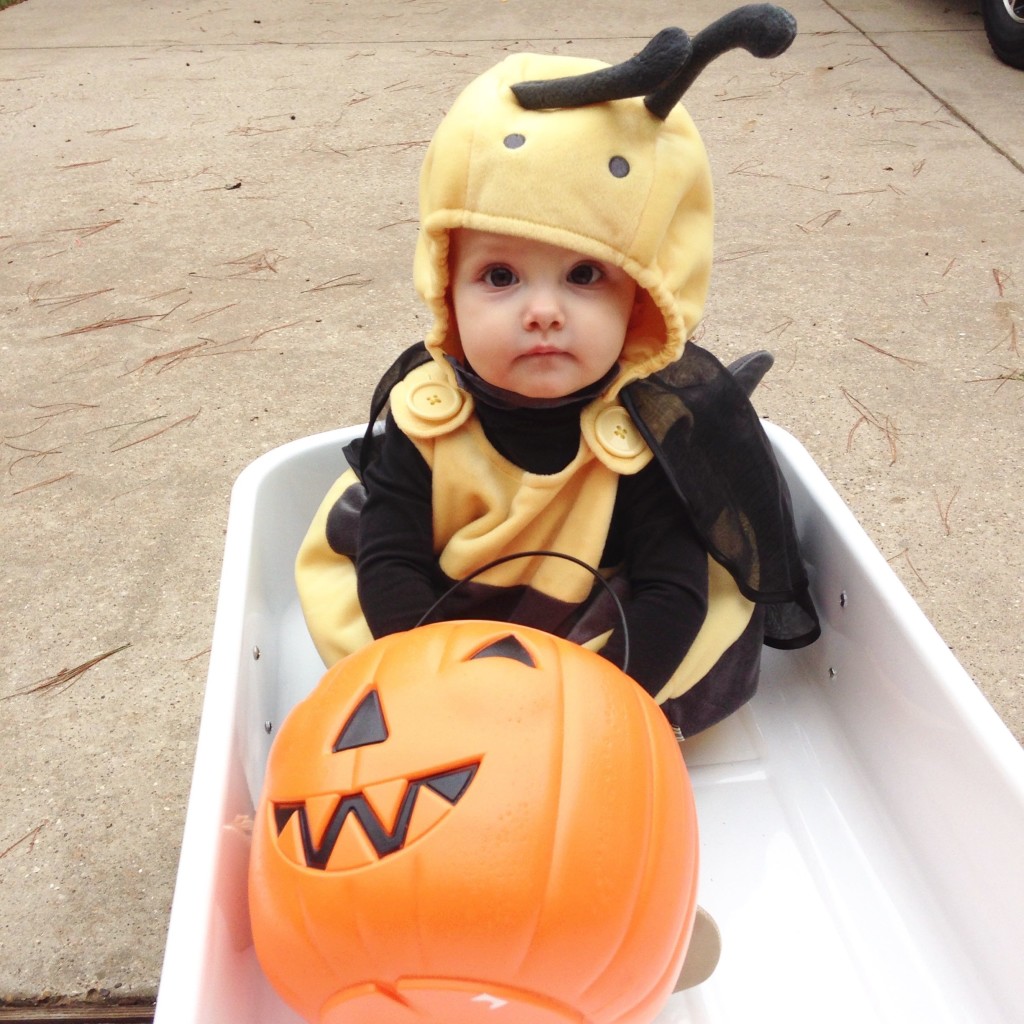 Hope you all had a wonderful Halloween. Enjoy!

Toffee Pumpkin Cheesecake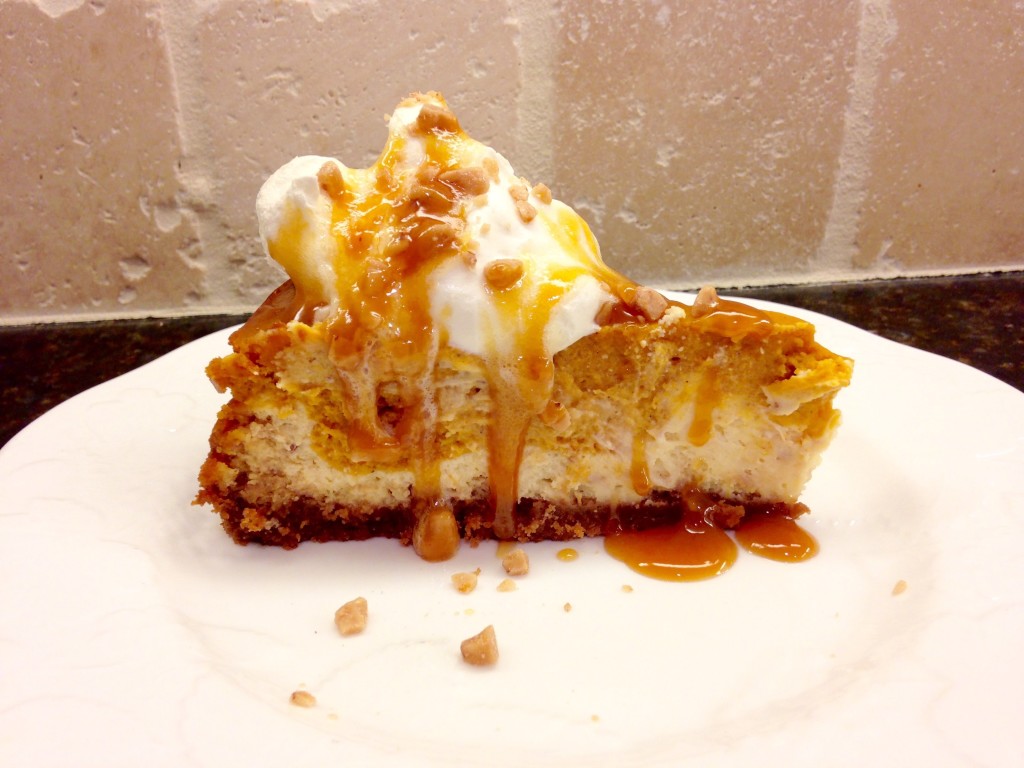 Ingredients
2 cups cinnamon graham cracker crumbs (32 squares)
½ cup butter, melted
2 (8 oz) packages cream cheese, softened
½ cup sugar
1 tsp. vanilla extract
5 eggs, divided
8 oz. bag toffee baking bits, divided
15 oz. can pumpkin
¾ cup whipping cream
⅔ cup sugar
½ tsp. cinnamon
⅛ tsp. salt
8 oz. container frozen whipped topping, thawed
caramel topping, heated
Instructions
Preheat oven to 300 degrees F.
Combine crumbs and butter in a small bowl. Press mixture in the bottom of a greased 9" springform pan. Bake for 15 minutes. Cool in pan on a wire rack.
Beat cream cheese, ½ cup sugar and vanilla in a large bowl with an electric mixer at high speed until smooth. Beat in 2 eggs. Stir in 1 cup toffee bits. Spread over crust.
Combine pumpkin, whipping cream, ⅔ cup sugar, cinnamon, salt and remaining 3 eggs in a large bowl until blended. Slowly and carefully spoon over cheesecake layer.
Bake 2 hours, or until edge of cheesecake is set at least 2 inches from edge of pan but center still jiggles slightly when moved. Turn off oven; open oven door at least 4 inches. Leave cheesecake in oven 30 minutes. Run spatula around edge of pan; remove side of pan.
Dollop servings with whipped topping. Drizzle with caramel topping; garnish with remaining toffee bits.