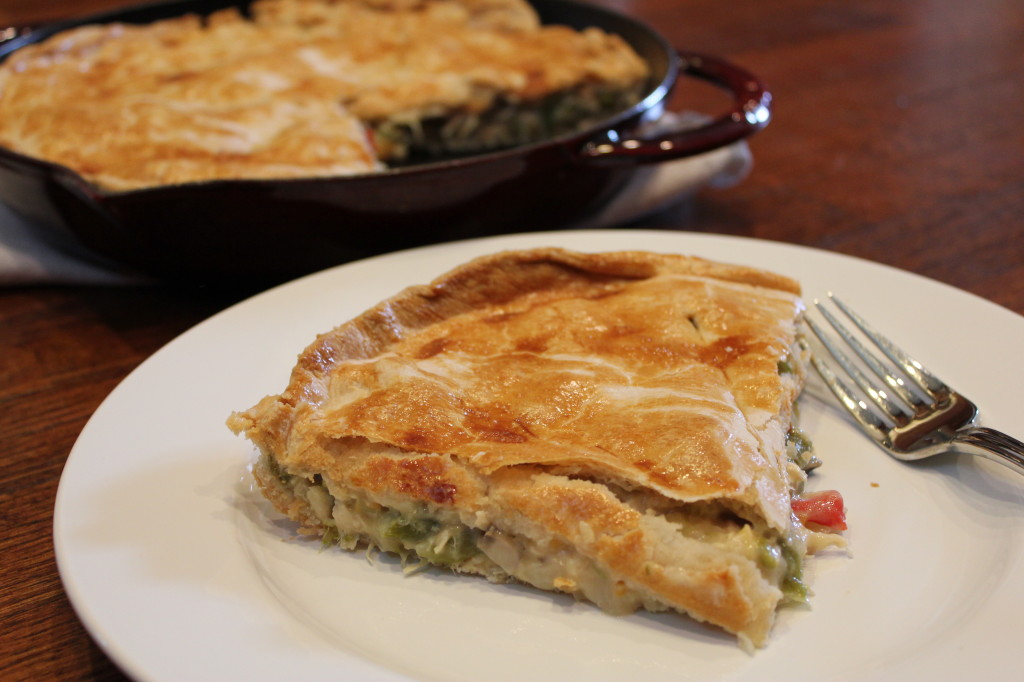 Chicken pot pie. The ULTIMATE comfort food!
Surprisingly, my mom never made chicken pot pie from scratch. Mom – if you did make it, sorry because I don't remember. 🙂
Instead, ever week or so we would eat individual Marie Callender's chicken pot pies. We absolutely loved them!
As a kid, I had a method to eating my chicken pot pie. First, instead of eating the pie pie right side up, I would eat it upside down. If you've ever made a Marie Callender's pot pie, you bake it in a cardboard container for 50 minutes or so. When it was done, we just flipped it out of its container on our plate, and never thought to turn it right side up!
Each member of our family ate our pot pies in a special way. I would cut a circle in the top of the pot pie, carefully remove the crust and eat it first. I would then eat the rest of the pot pie going in a circle, making sure I got a bite of flakey crust with eat bite!
My dad would pile his pot pie with a ginormous amount of green peas. My mom ate hers normal, of course, and my sister…we'll I can't remember how she ate hers. All I know is that she had leftover crust, while mine was pretty much gone!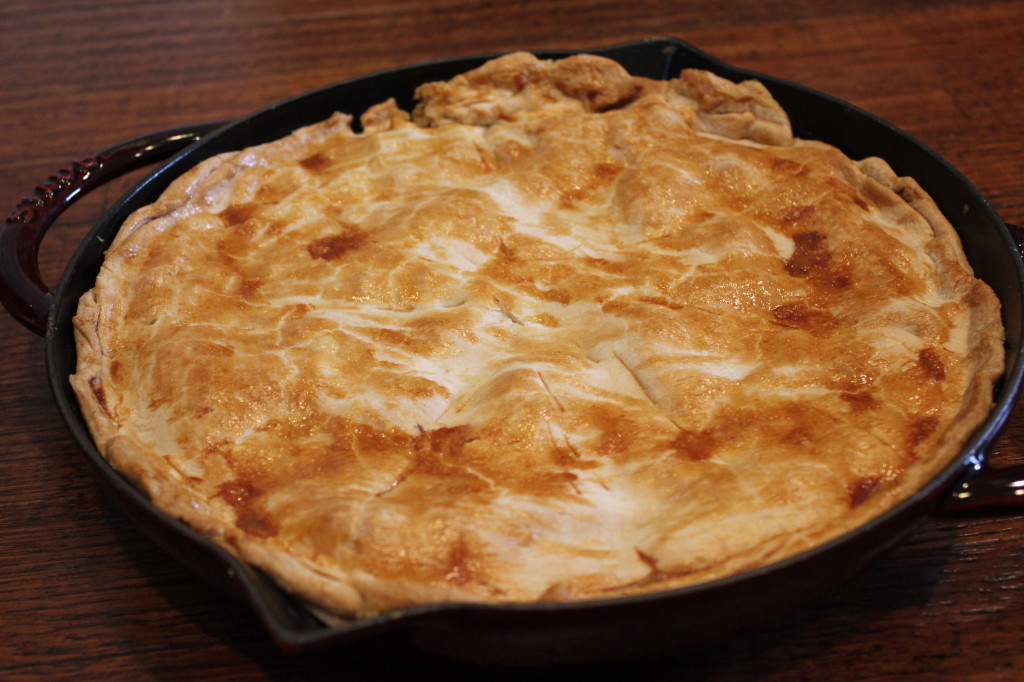 As mentioned before, I am the resident recipe columnist for our monthly neighborhood magazine. For the month of June I interviewed one of my neighbors, Mary Ann, a retired nurse who has a passion for cooking.
Not only was Mary Ann willing to be a part of the magazine, but she was gracious and sweet enough to cook me an entire chicken pot pie to take home after I completed her photo shoot for the magazine.
Since I had a 10-inch wide, 2 to 3-inch deep chicken pot pie all for myself and Matt, I thought it fitting to invite our entire family over for dinner to share. It was neat to have my parents and Matt parents all around the same dining table for some well-needed family time. If you know me, I LOVE family and enjoy ever moment I can get with them.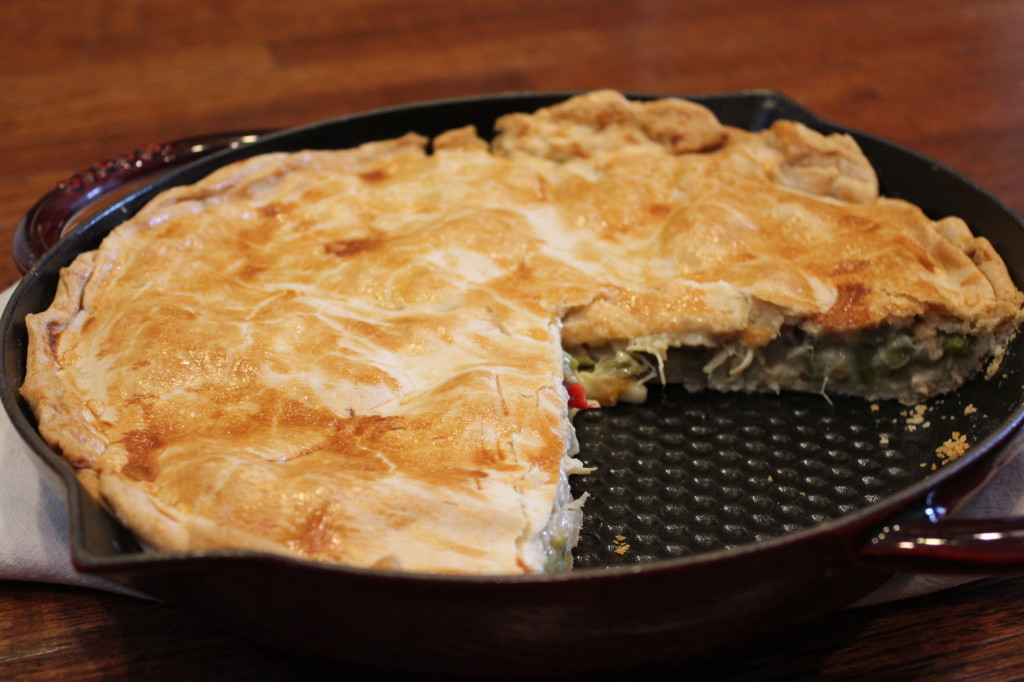 For those that don't live in my neighborhood and therefore don't get our magazine, I'm sharing with you this delicious pot pie recipe and an excerpt from my article:
If you're looking for old-fashioned, ultimate comfort food, then search no more.  Resident Mary Ann, a retired nurse and freestyle cook, makes you feel right at home with her delicious deep dish chicken pot pie.  Overflowing with fresh veggies, savory chicken and topped with a lid of golden-brown, flaky crust, this pot pie is the quintessential supper food sure to bring the family together.
As a freestyle cook, Mary Ann encourages you to add or substitute your favorite kind of soup, leftover ham, turkey, and/or your choice vegetable favorites. "This is comfort food, so the process should be personal," she says. Enjoy!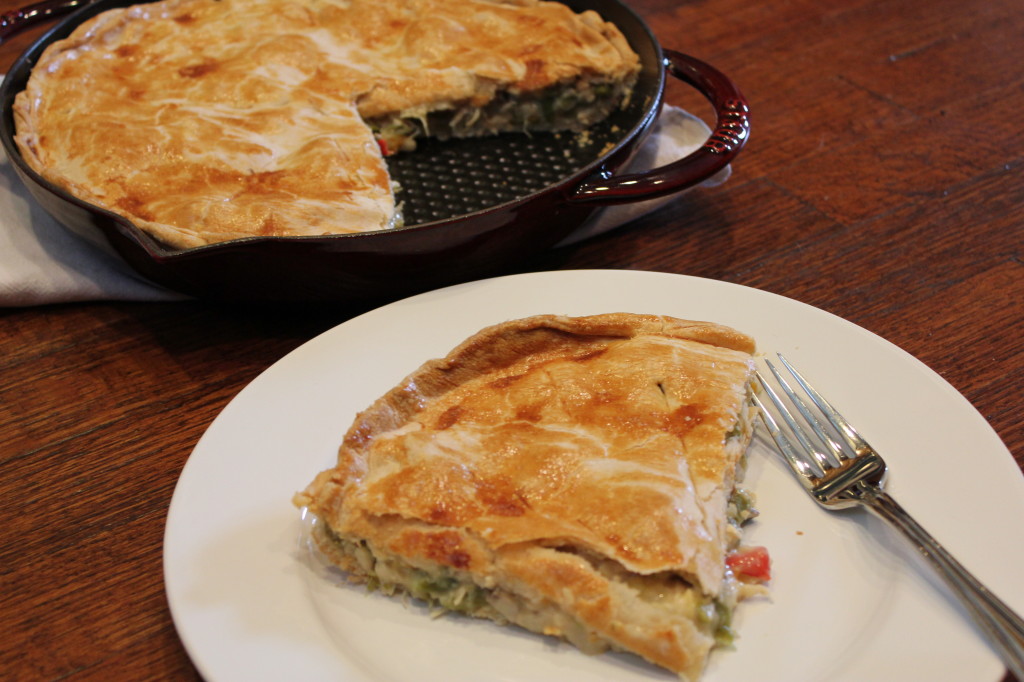 Enjoy your family time and I hope this chicken pot pie brings back happy memories to you as much as it did me!

Chicken Pot Pie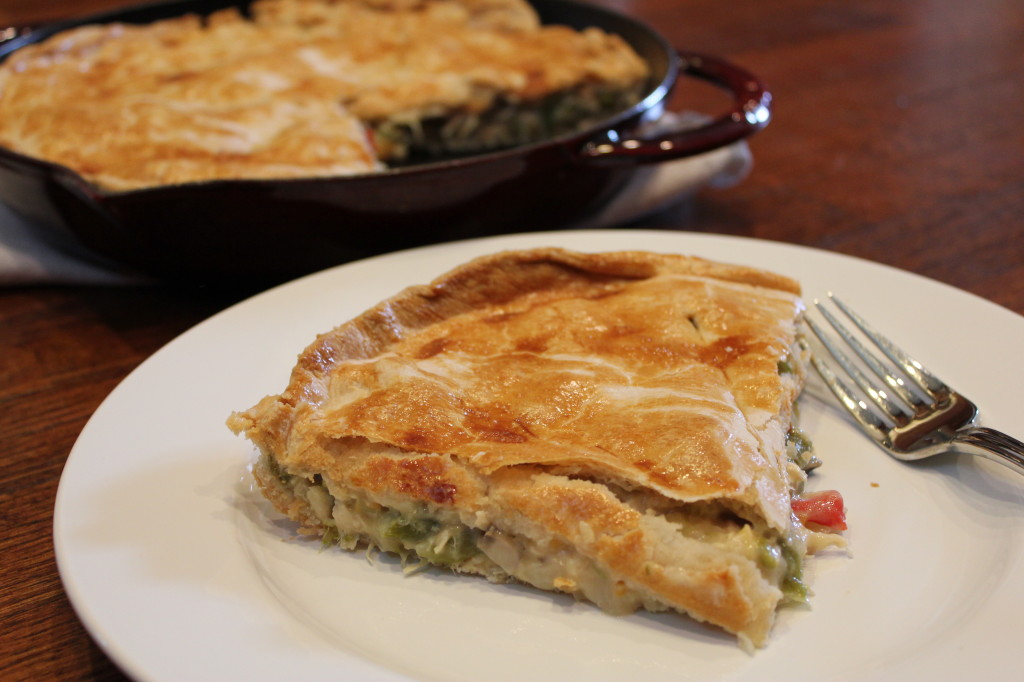 Ingredients
10-inch baking dish, 2 ½ to 3 inch deep
2 refrigerated piecrusts or 2 large frozen puff pastries, thawed
2 cups chopped chicken, poached; or leftover rotisserie chicken
1 can cream of onion soup
1 can potato soup
2 cups vegetable mixture (1 red onion, ½ cup celery, 1 chopped red pepper, ½ cup chopped mushroom, 2 Tbsp. olive oil)
2 cups of cooked or leftover carrots, asparagus, peas and/or green beans
1 Tbsp. fresh or freeze-dried poultry herbs, chives, pepper, & garlic
1 beaten egg
Instructions
Preheat convection oven to 375 degrees F. If using a conventional oven, preheat to 400 degrees F.
Sauté veggies in oil until lightly browned; turn out in bowl.
Add the chicken and soup, and mix together. (If the mixture seems dry, add a little more soup of your choice).
Place bottom crust in baking dish and spoon chicken mixture inside.
Top with herbs and pepper by recipe and to taste.
Place top crust on top, seal, and cut a few slits into the pie crust.
Brush top crust with egg wash.
Place pie in oven and cook for 40 minutes or until golden brown.
Notes
Source: my neighbor, Mary Ann