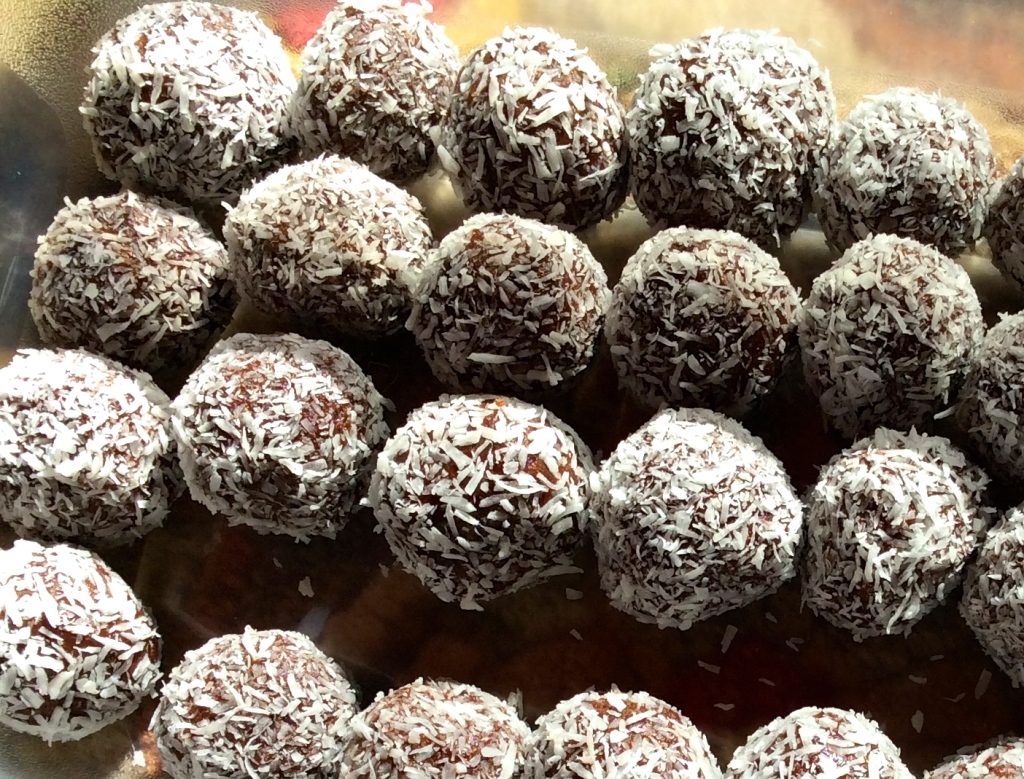 I hope everyone had a wonderful Christmas and New Years! It was crazy around our house with a new baby, Christmas shopping, traveling, seeing friends and family, and running errands, but it was fun.
My mom made these chocolate snowballs for Christmas a little over a week ago. Plain butter cookies, espresso, and dark cocoa rolled in unsweetened coconut, make for one delicious chocolate snowball truffle!
The recipe calls for 18 snowballs, but we made them smaller and got 32; thus half the calories! So for those starting on their healthy new year's resolutions today, you can still eat one a snowball a day, and not jeopardize your diet. 🙂
Credit goes to Johnny Iuzzini, author of the cookbook "Sugar Rush: Master Tips, Techniques, and Recipes for Sweet Baking". He also has a Killer Chocolate Chip Cookie recipe, so I'd highly recommend purchasing his latest cookbook.
Enjoy!!
Chocolate Snowballs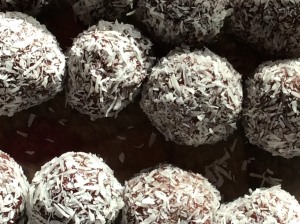 Sugar Rush: Master Tips, Techniques, and Recipes for Sweet Baking" by Johnny Iuzzini
Ingredients
7 Tbsp. unsalted butter (99 g)
½ cup sugar (100 g)
¼ cup dark cocoa powder (25 g)
¼ cup whole milk (60 g)
1 tsp. ground espresso powder (2 g)
½ tsp. vanilla extract (2 /12 g)
¼ tsp. kosher salt (1 g)
6 ounces plain butter cookies, finely ground (about 1¼ cups crumbs) (170 g)
½ cup unsweetened desiccated (fine dried flakes) coconut (38 g)
Instructions
Put the butter, sugar, cocoa powder, and milk into a small saucepan and heat over medium-low heat, stirring occasionally, until the sugar is dissolved and the mixture is smooth. Remove from heat and stir in the espresso powder, vanilla, and salt.
Put the crumbs into a medium bowl and pour the warm liquid mixture over them; mix well until crumbs are evenly moistened. Line a small sheet pan with parchment paper and spread the mixture out on it in an even, thin layer. Refrigerate for 1 to 2 hours.
Scoop level tablespoon-sized portions and roll them into balls. Toss them in the coconut, rolling firmly with your hands to adhere the coconut. Refrigerate for at least 30 minutes before serving and up to 1 week.