Chocolate Peanut Butter Overnight Oats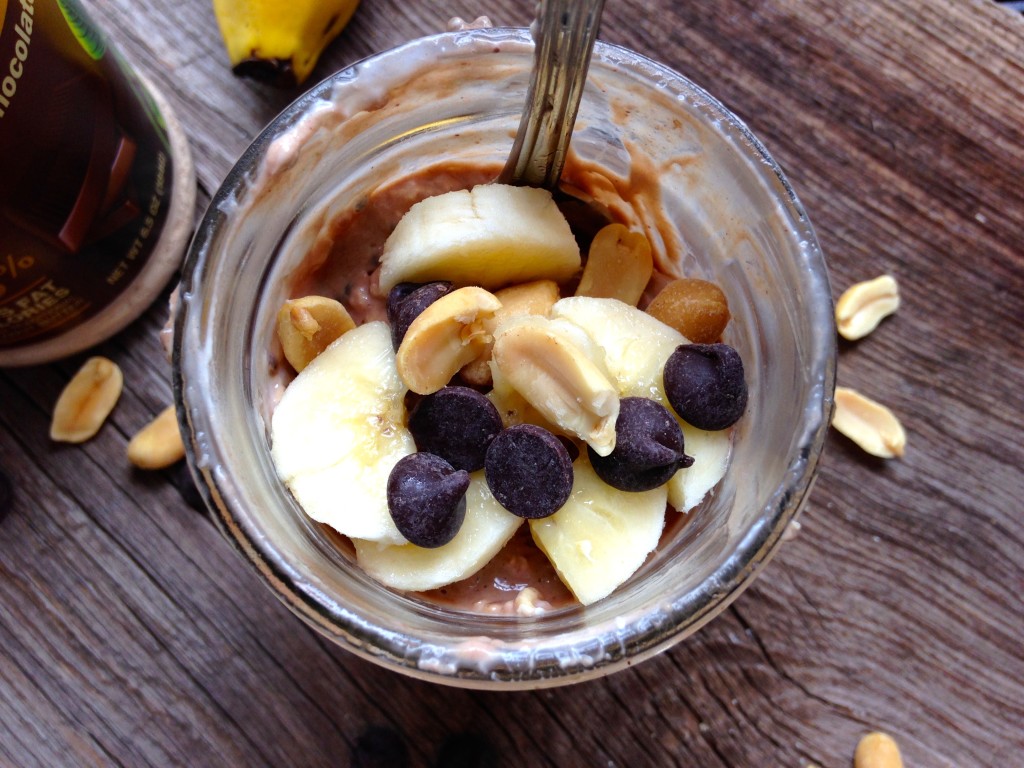 I LOVE LOVE overnight oats otherwise known as swiss oatmeal. I first discovered swiss oatmeal in Switzerland on a study abroad trip, and then found that Corner Bakery had it on their breakfast menu. I could eat Corner Bakery's swiss oatmeal for breakfast every morning if I had the chance, but since that's a little unpractical, I discovered how to make my own recipe HERE.
Anyone can make swiss oatmeal/overnight oats, because it is so EASY and so versatile. You can change just 2-3 ingredients and create a whole new recipe.
This chocolate peanut butter overnight oats recipe is a spinoff of my original one. The basic ratio to use in overnight oats is equal parts milk: yogurt: oats (1:1:1). In this recipe I used unsweetened almond milk (you can use skim milk, whole milk, coconut milk, chocolate milk, etc.), greek yogurt (you can use plain yogurt, vanilla flavored, etc.), and rolled oats (this is the one ingredient I don't ever change up).
I added PB2, which gives it a nice peanut butter/chocolate flavor without the added calories and fat. Just 1 tablespoon is 22.5 calories. 🙂 You can use regular PB2, but I like the chocolate version. I also added 1 teaspoon unsweetened cocoa powder and 1 teaspoon of pure maple syrup to sweeten it up naturally. What goes better with peanut butter and chocolate than banana? I added banana and a little chopped peanuts for some crunch. Yum!!
Again, the flavors are unlimited for overnight oats. You can add dried fruits, any kind of nut (walnuts, pecans, pepitas, etc.), chia seeds, flaxseeds, fresh fruit, and honey. Have fun experimenting…. just remember the 1:1:1 ratio of milk: yogurt: oats.
Enjoy!!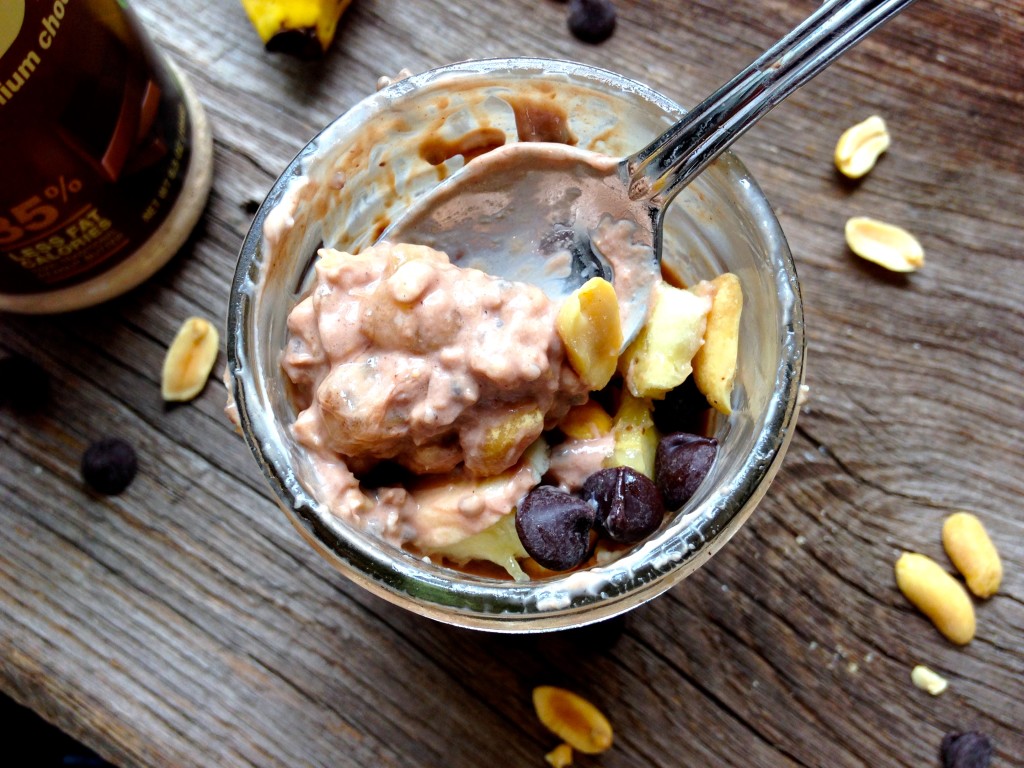 Can't forget to post a baby picture!! This little one turned 6 months old this week. Time sure flies by!!!  She's still a petite thing… 3 percentile in weight and 2 percentile in height. Been in the less than 3 percentile since she was in the womb. Looks like we got a horse jockey or gymnast in our midst! lol  🙂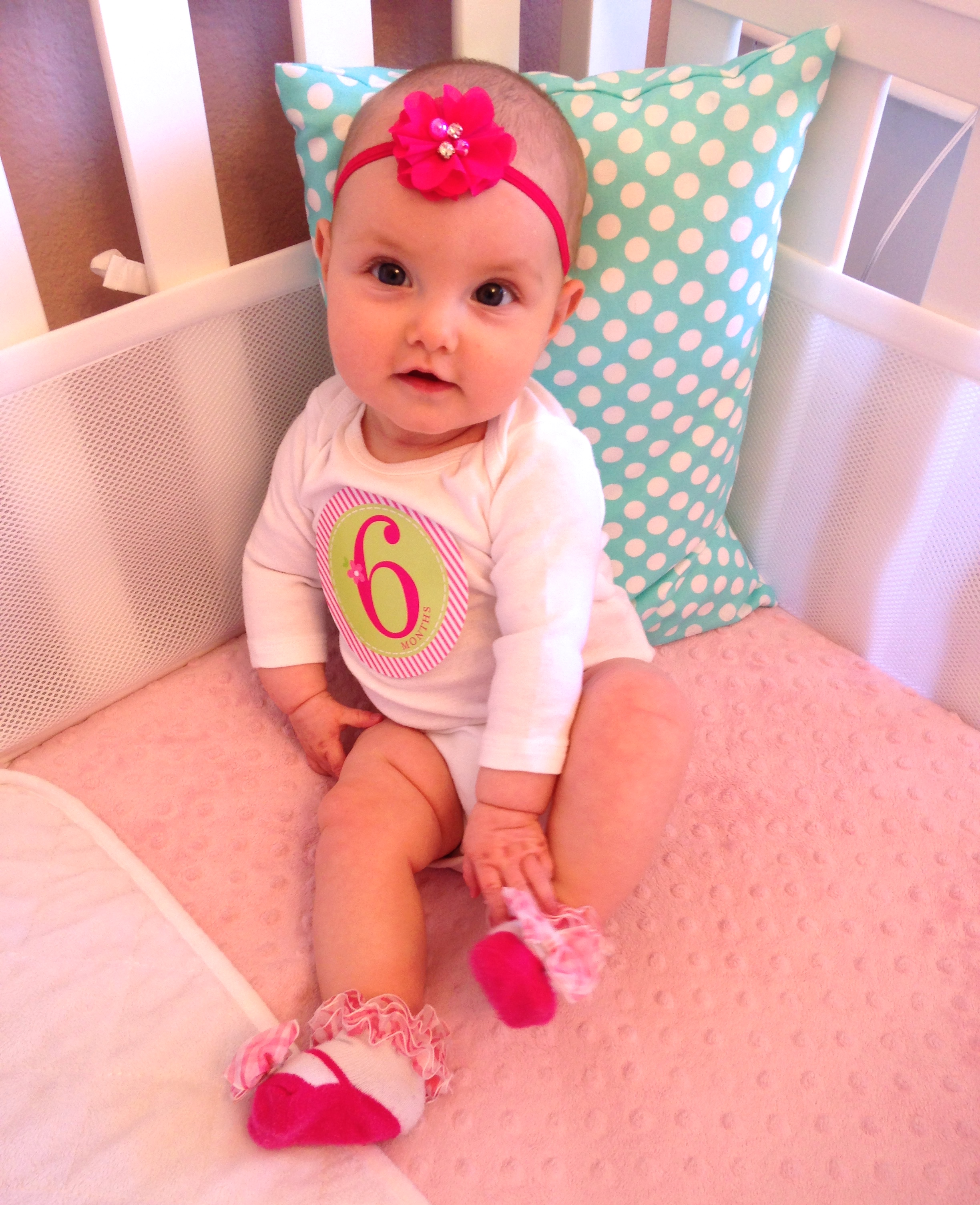 Chocolate Peanut Butter Overnight Oats
Prep time:
Cook time:
Total time: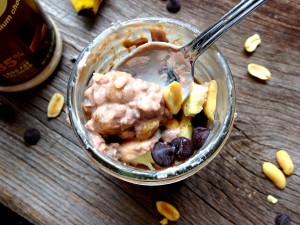 Ingredients
8 ounce mason jar
¼ cup rolled oats
¼ cup plain greek yogurt
¼ cup unsweetened vanilla almond milk
1 Tbsp. chocolate PB2
1 tsp. unsweetened cocoa
1 tsp. pure maple syrup
1 tsp. chia seeds
pinch of cinnamon (optional)
1 tsp. mini chocolate chips
1 tsp. unsalted peanuts
¼ chopped banana
Instructions
In a mason jar mix together almond milk, greek yogurt, chocolate PB2, and unsweetened cocoa. This takes about 30 seconds or a minute. Then whisk in maple syrup and chia seeds.
Stir in rolled oats until all ingredients are combined. Add a pinch of cinnamon, if desired.
Place lid securely on and store overnight in the refrigerator.
In the morning, give it a stir, and add a little more almond milk to loose it up and give it the consistency you want. Sprinkle chocolate chips, peanuts and bananas on top.